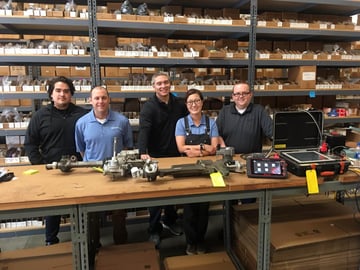 With the transition to electronic power steering service, several different elements of your power steering shop may need to change drastically. To name just a few examples, your diagnosis and rebuild process, your tool kit, and the rebuild components that you use may all need to change in order to deal with the demands of vehicles that use EPS. Additionally, one other element of your shop that may need adjusting is your team of technicians and employees. Because of the specialized nature of EPS service and the skills involved in it, you may need to consider whether your team can tackle EPS programming or you'll need to hire a dedicated programming expert.
In this post, we'll explain whether your power steering shop needs an EPS programmer based on the role that specialist will play in your rebuild process.
The Role of the EPS Programmer
In a general sense, a computer programmer is someone who uses coding languages in order to write, manipulate, and command software programs. When applied to the computers on board an electronic power steering system, an EPS programmer's job is to ensure that the computer systems are correctly calibrated for peak performance and are free from issues. If you were to hire a dedicated EPS programmer for your power steering shop, this team member's tasks could include:
Evaluating EPS computer processes in order to troubleshoot steering issues
Reading DTCs in order to diagnose steering issues
Reverse engineering communication issues between or within electronic steering components
Creating the bill of materials needed for repairs
Performing electrical repairs and adjustments to the software that runs the EPS computers
The advantages of having a member of your team who is uniquely experienced in EPS programming can add a lot of value to your power steering shop in today's automotive market. On one hand, bringing in this expertise can be a critical first step of getting into electronic repair in the first place. At the same time, an EPS programmer will help to expand your shop's portfolio and the types of modern vehicles you're able to service. Finally, a programmer can assist your team in stepping into an entirely new era of steering technology by sharing their experience with those who are less experienced with EPS.
EPS Programming: Specialist or Tech Training?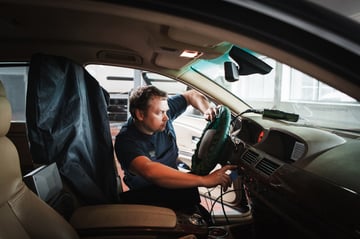 Programming is an essential component of EPS repair. Without a way to evaluate and manipulate the computers that control the EPS system, repairing these systems will be extremely challenging if not impossible. However, depending on the needs of your shop and the resources you have to work with, you may have options to choose from when it comes to handling the programming your customers need.
For some shops, in light of the advantages we discussed above, hiring an EPS programming specialist may be the way to go. However, this is not necessarily an easy task, as EPS service is still an emerging industry and the actual qualifications for EPS programming are not clearly defined yet. Even top aftermarket brands continue to struggle with what type of education is best to fulfill the programming need. Computer science experts are generally used to writing and developing code as opposed to evaluating it in the way EPS service requires. Electrical or mechanical engineers are possibly the better choice for EPS programmers, though they may not have specific automotive experience. Hiring one of the expert programmers, however, is also an investment that a power steering shop will need to consider, as these professionals are highly trained and may require a more substantial salary than a shop's current technicians.
However, EPS programming is not only a job title, but it's also a skill that can be learned. For this reason, many shops may find it more to their benefit to focus on training their existing employees on EPS technology in order to facilitate programming through team members they already have in-house. Choosing an EPS aftermarket partner with the experience necessary to teach your techs the ropes of EPS repair can be the difference between figuring out how to handle programming or falling far behind the competition.