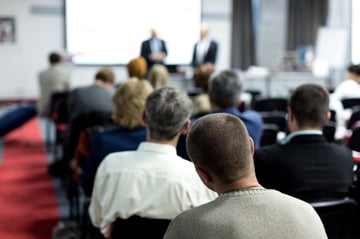 In order to keep up with the automotive industry as well as your competitors, you and your auto shop team need to be dedicated to constantly improving your service processes. One of the best ways to stay ahead is by attending continuing education and industry events like training seminars, trade shows, and expos. You and your techs can bring home valuable information on innovations, technology, and business best practices after attending these events, but it can be hard to keep track of — and even harder to implement — everything you learn. But if you handle it right, you can get way ahead of the curve.
In this post, we'll share how you can make the most of what you learn at auto seminars and expos and explain why it's so important to make that continuing education count.
3 Best Ways to Use and Retain Information from Seminars and Expos
Take notes. During training, information sessions, and demonstrations of all kinds, it'll always be in your best interest to take notes, whether on paper or on your phone or tablet. Having a record of everything you're learning helps you absorb the information while also giving you something to refer back to later. Even jotting down a few names and topics to look up later can be one of the best ways to retain everything you're taking in. Additionally, keep any handouts or worksheets you're given (at least until you can go through them later).


Implement ASAP. The next best thing you can do after an event is to narrow down the new technologies, products, and strategies you want to implement in your shop process as soon as possible. While some new concepts might take a while to integrate into your existing process, getting started quickly will help you make the most of all your new ideas before you have time to forget them. When you know that something will be a good move for your auto shop, sooner is always better than later, even if it's just taking the first step.


Keep your team accountable. Finally, in order to make the most of your new training, develop a plan for keeping yourself and your team accountable for keeping up with it. Make your new process stick by checking in with yourself and your team regularly. You can also use visual reminders and write the change into your official service procedure to make sure it doesn't fall by the wayside after a few days or weeks.
Making Your Continuing Education Count
Continuous improvement in your auto shop takes commitment — both commitment to learning and commitment to making the change. While it's always a good idea to attend industry events and stay up to date on technical training, that's only half the battle. You also need the dedication to stick with what you learned beyond simply attending these educational events. When you're already taking time out of your schedule and investing resources to attend training seminars, trade shows, and expos, you need to make that time count by putting your new knowledge and skills into practice. While not every single thing you see during industry events will be useful to your shop and your unique circumstances, you don't want to miss out on the value that the right pieces of information can bring to your business.