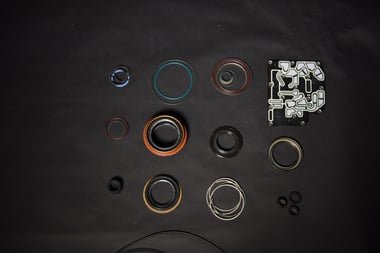 When a new transmission application hits the automotive market, it's only a matter of time until rebuilders need a seal kit for it in their shops. While warranty lengths give aftermarket seal manufacturers a few years to develop a kit before then, you might be surprised by the amount of work and analysis it takes to launch a kit to the aftermarket. While every manufacturer will have a slightly different aftermarket transmission seal kit development process, it's a mistake to believe that every process is equal.
When you're vetting a seal kit provider, there are some concrete steps you should look for in their transmission seal kit development process to ensure their product is worth your trust (and the price). In this post, we'll discuss the 3 elements that every aftermarket transmission seal kit development process should include, as well as why a good development process leads to superior quality kits.
3 Elements of a Quality Aftermarket Transmission Seal Kit Development Process
Bill-of-material research: The first step to creating a quality seal kit should always be rooted in research. After using advanced forecasting data to prioritize the right applications for the aftermarket, the kit manufacturer should explore several avenues of research data to compile an accurate bill-of-material for the seal kit. These avenues include electronic parts film, OE service manuals or catalogs, and material identification technology. Collecting research on the application and all of its variations is the best way to ensure the kit bill-of-material is accurate and complete.


Unit disassembly: Next, in order for a seal kit manufacturer to evaluate the bill-of-material they've compiled and better understand the true function and engineering of the parts inside a transmission application, the team should undertake a full disassembly or teardown of the real transmission unit. The disassembly step is crucial to documenting specific features, accounting for challenges a rebuilder might face, identifying wear items, recording information that will aid in design, and validate the different variations of that specific application. In sum, a unit teardown is essential to documenting how the application functions, which gives context to the design work ahead.


Expert tech review: Finally, a quality seal kit development process should include a formal, in-depth tech review involving a cross-discipline group of engineering, design, materials, and sourcing experts from within the company. This technical dialogue should focus on recording all relevant design information for the development of the necessary kit components as well as setting clear guidelines for manufacturing and sourcing. By discussing and approving all the gathered information on the unit and approving a process for creating or collecting everything necessary to launch the kit, the company's experts set up the production of the new kit for ultimate success.
Developing an Aftermarket Seal Kit with True Value
A well-maintained aftermarket transmission seal kit development process lays the foundation for all the markers of quality within the kit itself. Identifying every component of an application during research and disassembly ensures that the rebuild kit will be 100% complete. Research also plays a major role in providing the right kits at the right time (or even before they're likely to be needed on the bench). And finally, an emphasis on understanding the design of the application and where parts can be made or sourced allows a good aftermarket brand to focus their production on an OE first basis. After all, the right seal manufacturer should be completely transparent about how they structure their development process in order to provide the aftermarket with the best seal kits available.
Click here to learn more about the TransTec brand's seal kit development process.