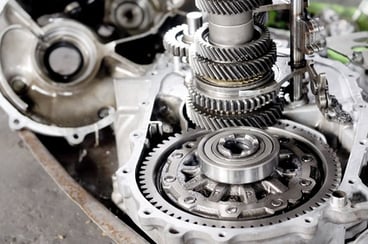 When you have a lot on your plate in your rebuild shop, it can be tempting to go with the easiest option when it comes to transmission overhaul kits. Whether you buy the first kit you find, stick with the same sub-par brand just because it's what you've always used, or just let your distributor make the decision for you, you could be missing out on a lot of value the right provider could bring.
But when it takes an investment of time and resources to find a better brand, you might wonder what difference your effort really makes. Does transmission overhaul kit brand matter? To put it simply, yes.
In this post, we'll explain the reasons why transmission overhaul kit brand matters and describe how to choose the best one for your shop.
Reasons Transmission Overhaul Kit Brand Matters For Your Shop
Quality: One of the top factors that set the right brands above the rest is their commitment to quality in their parts and processes. The number one marker of quality in overhaul kits is the amount of OE (original equipment) content they contain. OE components are the same exact components that are used to build the original transmission unit. Brands that deliver quality overhaul kits consistently have more OE components in their kits, thanks to their connection to the original equipment manufacturer. On the other hand, inexpensive or offshore overhaul kit brands generally contain far fewer, if any, OE components that are designed for true quality. Quality kit brands also tend to offer more complete kits than their inexpensive competitors.


Availability: Not every overhaul kit brand can provide you with every kit that you need for the vehicles that come into your shop. Only the right brands can promise superior application coverage in the aftermarket. It takes thorough research, forecasting, and production capabilities in order to offer the broadest application coverage, and not every kit brand is willing to put in the effort and resources to provide that coverage. You should be sure to choose a brand with overhaul kits for the majority of vehicles on the road, including late-model transmission applications, so that you can depend on them for consistent coverage.


Expertise: Finally, only the best overhaul kit brands truly know the transmission industry from both sides — that is, from the production perspective as well as from the service point of view of a shop owner or technician. Brands with experience and expertise that truly applies in your industry are the brands you can depend on to answer your questions and support your needs, both in preparing and packing their kits and in providing valuable customer service solutions.
Choosing the Right Overhaul Kit Brand
For those reasons and more, depending on your rebuild shop's setup and needs, investing in a overhaul kit brand that provides quality, availability, and expertise can certainly make a big difference in your business. Because a tech's work is only half of what makes a successful rebuild; without the right parts to depend on, that hard work can't last. With the wrong overhaul kit, you raise your risk of costly comebacks to your shop when the parts fail.
So what does it take to find the right overhaul kit brand that comes with all the benefits you need? The first step is to do a little more research. Using a brand's website and calling its customer service line can shed a lot of light on its processes and background. To learn more about the quality and availability a brand can offer, delve into its development processes: where does its parts come from? Does it source true OE components or produce its own versions of OE parts? What forecasting techniques does its NPD team use? Then, in order to learn more about expertise, check out how long the brand has been part of the industry and what experience its team members have, both in manufacturing and rebuilding. In the end, investing in an overhaul kit brand that knows what your business really needs will provide your business with lasting value.