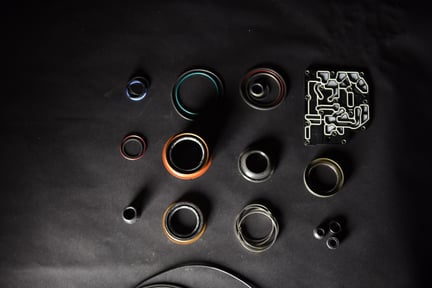 In our previous post, we discussed the ways TransTec's innovative sealing technology designs and advancements address the evolving concerns of the automotive industry: legislative regulations, environmental concerns, and fuel efficiency, just to name a few. But what does all of this mean for the aftermarket?
Simple. It means that the company that brings you TransTec® brand automatic transmission overhaul kits is a global leader in proactively developing OEM solutions and bringing those technologies to the aftermarket. Every day of every week we are perfecting both designs and materials for the aftermarket by leveraging our OE manufacturing. This gives us a unique and distinct position as the only aftermarket kit supplier to also supply to OEM manufacturers.
the Value of OE Manufacturing
For instance, the company's Findlay, OH plant produces 185 million polytetrafluoroethylene (PTFE) sealing rings and related products annually and is not only a benchmark for lean manufacturing, but it also controls the entire supply chain. From engineering design, to development and manufacturing of raw materials, to molding the final product. The company's engineers are design responsible, meaning they determine joint design and material composition depending upon where the ring in used as well as the performance requirements within each particular application. Freudenberg-NOK engineers draw on their collective experience with global applications and the company's technology-leading manufacturing capabilities to create sealing components that exceed typical OEM standards. Technological advances learned from past research lead to enhancements for future development.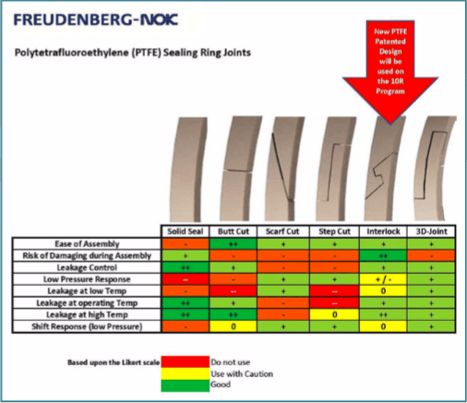 Building on over three decades of experience with PTFE transmission seals, the team at Freudenberg- NOK began their journey working on designs for 4-speed automatic transmissions for GM and Ford. Following that, the company designed and launched all PTFE rings for GM and Ford 6-speeds and in the process developed a proprietary Quantum® PTFE formulation that was introduced in 1999. This new material essentially doubled the seal's PV limit (e.g. the pressure and velocity at which the seal can function). Today the company's engineers are designing, testing and launching seals for 9- and 10-speed units while simultaneously developing products for future transmissions with global OEMs. And currently, Freudenberg-NOK maintains approximately 90% of all transmission PTFE sealing rings for the Detroit 3 OEMs.
And it doesn't stop there. The company has continued to develop new products and processes to support the unique requirements of automotive applications and today is the only supplier with a full portfolio of materials. In fact, the industry recognizes our popular PEEK material as one of the toughest in aggressive applications. By studying specific application needs Freudenberg-NOK has developed an expertise in thermoplastic technology, has patented part designs and has developed proprietary manufacturing processes that deliver precision components.
Refining sealing ring standards, solving historic problem areas with application experience and coordinating with global partners are all in a day's work at TransTec.