With all of this activity at the OEM level, it is only natural that this collective experience as the world leader in seal manufacturing translates into expertise in the aftermarket. In every case, advances in sealing technology learned from not only past research but also feedback from the field are considered.
We attend seminars and trade shows around the world where we have the opportunity to network with transmission professionals one-on-one. In addition, we are making regular shop visits to collect information and provide technical support where needed. We have also built strong relationships with a number of volume rebuilders who we work closely with.
But why gather all this feedback? Because we are constantly looking for ways to add more value to what's in our bag. That is, we want to provide the most complete, highest quality kit to the market. Whether that be with new designs, new materials or a combination of both it is our goal to make TransTec® the first choice for automatic transmission overhaul kits. When you see the familiar black and gold package with the TransTec® name on it, you'll know it contains only quality components; quality that meets or exceeds OE requirements. You'll know you can trust that from initial design to testing to manufacturing and finally installation, Freudenberg- NOK has dedicated a wide range of resources to ensure what's inside the bag will stand the test of time.
Documenting Advancing Technologies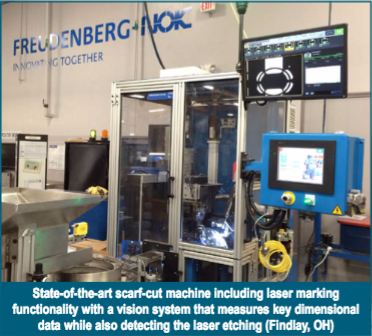 With the advancement of technology, there come additional challenges to make sure we're providing time-sensitive, relevant products and information to the field. In pursuit of this, we strive to be first-to-market with new product introductions. And when we do bring a kit to market, it is the most complete, accurate kit available. We take painstaking measures to ensure that our research and development teams identify every sealing component that will be required to rebuild a particular unit. We work together in teams to provide a check and balance to the process. From initial teardown to analyzing, identifying, engineering and sourcing each individual part the team members continually check and recheck. During this entire process, the team is gathering comprehensive application knowledge so that we can support end-users with the best technical services.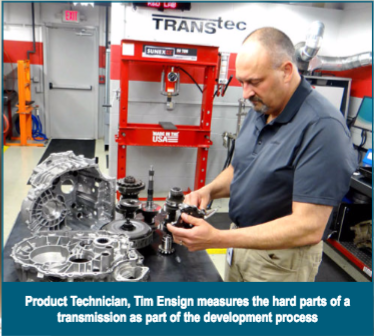 Something new we've added is a video recording of the teardown process. The ability to reference the original application analysis and teardown is immensely beneficial when our product team answers questions that arise from the field. And we've taken that one step further. We are now creating YouTube videos that can be viewed by technicians around the globe. While these videos are not meant to instruct viewers how to rebuild a unit, they are more simply designed to highlight uncommon or significant findings in a particular transmission. We're providing QR codes right on the package so when a technician has the unit on his bench, he can easily scan the code to view a short video. Links can also be found on our website www.transtec.com or by subscribing to our YouTube channel, 1TransTec.