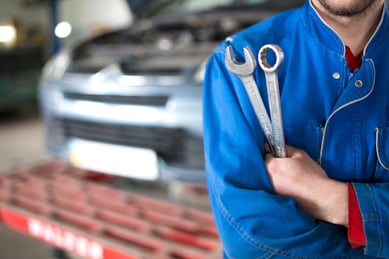 When it comes to transmission repairs and rebuilds, your customers have plenty of choices. The internet makes it easier than ever to shop around for prices or other decision-making factors, not to mention your customers are probably getting an overwhelming amount of advice and recommendations from friends and family. How can you ensure your shop stands out as a top choice for transmission work? By crafting a reputation for outstanding value and quality.
If you want to add value to your rebuild process that really gets people talking, there are a few key areas of your shop process to optimize. In this post, we'll walk you through the most important transmission rebuild value propositions you can incorporate into your shop and why they make such a difference.
3 Ways to Add Value to Your Transmission Rebuilds
Use high quality rebuild parts. The quality of your technicians' work can only be as effective as the parts they're installing into the transmission units. The most sure-fire way to increase the value of your rebuilds is to use rebuild parts that are well-designed, made from quality materials, and built to last. Even down to the overhaul kit, your rebuild part choices will streamline your process and help ensure the ultimate success of every rebuild job.


Offer a great warranty. Another place your shop can add value to the customer experience is through your warranty. Not only does the right warranty length and coverage give your customers the peace of mind to trust that their rebuild is safe in your hands, but it also proves that you stand behind the work that you do and care about taking care of the customer, no matter the situation. While the best care scenario is that no one has to use your warranty, having the right coverage in place will improve the inherent value of your service as well as your shop's public image perception.


Keep your staff well-trained. One more way to stand out among your competitors is to keep your staff on the cutting edge of service methods and vehicle technology by encouraging your technicians to attend regular professional training sessions. When your techs are prepared for any issue that comes into your shop, whether it's a diagnostic difficulty or a new development in transmission design, you add value to the customer's experience by avoiding costly mistakes and providing solutions that other rebuild shops couldn't. Additionally, incorporating customer service resolution strategies into your in-house technician training/orientation allows your team to make better connections with customers in general.
Crafting a Reputation for Value
Adding value to your rebuild process can only do so much for your business if none of your customers know about your value propositions (that goes for existing customers as well as potential new ones, too). While it takes a certain amount of strategy and tact to introduce the advantages of working with your business in a way that comes across as genuine to potential customers, it's important that you're as transparent about your value propositions.
By educating the customer on your process through your website, advertising, social media, or even in face-to-face situations, the value your shop can provide becomes clear and legitimate. Additionally, the longer you continue to provide a positive customer experience, the more likely your customers are to recommend your rebuild services to friends, family, coworkers, and more. Over time, your ability to increase the value of your transmissions services (and put adequate social proof behind that value), you'll see your investment in a better system start to pay off in terms of your reputation in your community.